The Banking, Financial Services and Insurance (BFSI) sector is a core sector of the Indian financial and economic landscape and by extension the larger administrative and citizen services ecosystem of the country. The SKOCH Awards are widely hailed as India's highest, most honest and independent awards. SKOCH studies different aspects of administrative, developmental, economic, political and public health in India. SKOCH evaluates macro-level policy decisions and projects down to the micro-level impact of the same on the lived experiences of the citizens. This year, SKOCH is evaluating the impact of the BFSI sector on the lives of Indian citizens by studying various important BFSI projects in recent times.
The following projects have been studied at SKOCH for an analysis into impactful BFSI projects that are improving citizens' lives.
LIC of India Excels Claim Settlement
LIC of India has long been a stalwart of the BFSI landscape in the country. With 1,14,498 employees, 28.92 Crore policies in force, assets worth Rs. 31,96,214.81 Crore and Life Funds worth Rs. 31,14,496.05 Crore in effect, the organisation is an industry leader. The WWW Effect is an integral part of their CRM Initiative, allowing customers to pay premiums Wherever, Whenever and through Whichever of the multiple mediums they prefer. The customer-centric approach has seen the establishment of a Claim Dispute Redressal Committee, Grievance Redressal Mechanism, Customer Zone and an online portal service. Business continuity throughout Covid-19 has been prioritised with measures like relaxations in MAB, claim settlements and premium payments, advances given to agents, and email submission of claim forms and NEFT information for policyholders. The organisation has worked hard to keep customers looped in through digital media, press releases and TV interviews. Employee wellbeing was prioritised with work-from-home access and personal protection expenses.
Punjab National Bank Participates in the Fight Against Covid-19
The Guaranteed Emergency Credit Line (GECL) scheme was introduced on 27.05.2020 and in the span of a month over 3.8 Lakh borrowers had received Rs.7700 Crores. By 19.09.2020, the service had helped 4.16 Lakh borrowers with more than Rs.10,000 Crores. The goal of the scheme was to provide an economic buffer in a time of acute distress. Many industries and businesses were terribly affected by the Covid-19 pandemic and struggled to stay operational. This scheme was designed to give financial relief so that businesses could remain operational/ reopen. MSMEs have been left devastated by the pandemic, and this scheme has been instrumental in helping them remain afloat in this time.
SBI Life Insurance Company Uses Information Technology
The SBI Life Communication Through WhatsApp and Chatbot project has digitised communication for SBI Life Insurance. It is the first organisation of its kind to launch a WhatsApp group integrated with a Chatbot. The innovation has not only helped boost brand value, but has also pushed for greater inclusivity by incorporating six regional languages: Bengali, Hindi, Kannada, Marathi, Tamil and Telugu. The use of emerging technologies has been instrumental in enhancing customer touch points and improving customer interactions as well as internal communications and industry networking. Instant responses to customer queries have transformed the customer experience.
State Bank of India Cements its Role As The 2nd Largest Credit Card Issuer in India
SKOCH studied the work done by SBI in the niche of Financial Inclusion in 2017. Cementing its role as the 2nd largest issuer of credit cards in the country, SBI issued 4.5 million cards to 3.9 million customers spread out over 70+ places in 2017 and reported a market share of 15.3%. With retail, corporate and co-branded cards to offer, over 2500 employees and central offices in Gurugram and Chennai to ensure widespread market presence, the bank has made its mark as an accessible institution for the public. A key flagship product is the SBI Card Unnati. The project was designed to address gaps in the card-user market such as the disproportional emphasis on Tier-1 cities, mandatory CIBIL Bureau Score, hesitations and challenges of a previously never-carded society, problems of high fees and charges, need for surrogates, etc. The card seeks to plug these gaps and offer greater options to the citizens to go fully digital and cashless. The project has been designed to better serve the Tier 2 and 3 parts of the country. The prerequisites of surrogates and CIBIL scores are to be replaced by a more inclusive approach: an easy-to-maintain Fixed Deposit of Rs.25,000/- only. With no annual or renewal charges for the first four years and reduced finance rates of 2.5% against the industry standard of 3.25-3.5%, the project is making card ownership accessible for everyone.
Union Bank of India Develops the Digital India Dream
The electronic KYC or EKYC Application project is a big step forward towards achieving the Digital India dream. Customer details are obtained through the UIDAI database via NPCI following biometric authentication. The method is fast, reliable and accurate. Account opening is simplified through this paperless system. It promotes transparency and accuracy by eliminating all scope of document forgery or duplication. KYC data is collated in a centralised database. Customers can enjoy a hassle-free process for new accounts or renewals. This has led to a greater number of sign-ups.
Aditya Birla Health Insurance Co Ltd does well in Health Insurance Sector
Project ABHI seeks to put the 'health' back in 'health insurance'. It does so by offering customers a reward of up to 30% of their premiums if they prioritise good health. The insurance scheme promotes true health and wellness whilst offering clients security. The customer-centric approach intends to transform the poorly-differentiated Health Insurance (HI) industry and challenge the low HI penetration (<5%) by changing the 'buy & forget' paradigm to a 'buy & engage' system. The project seeks to incorporate previously-neglected demographics: the existing industry options were typically irrelevant for those under 35 and too expensive for those over 55. The new approach intends to offer products that are useful to these age groups as well. The organisation pioneered the use of WhatsApp groups for business purposes in their niche and has rolled out end-to-end digital solutions.
Bandhan Bank Limited Promotes Financial Inclusion Through Insurance
Bandhan Bank is promoting financial inclusion, insurance penetration, financial literacy and financial security through insurance. There has been a concerted effort to better serve the underserved and financially-neglected parts of the country. The bank functions in 245 districts, of which 173 are underbanked. The bank specialises in doorstep delivery of customer services, small loans and procedural simplicity. The bank intends to expand its customer base to include a greater number of people from underbanked and rural areas. The bank has consistently provided insurance coverage and financial assistance to customers, keeping its focus firmly trained on helping marginalised sections of the community and inspiring entrepreneurial ambition.
Bharti AXA General Insurance Offers Innovative Risk Management
The Risk and Control Self-Assessment project imbibes the recent global shift towards an individual-and-management-led risk assessment approach. This is in contrast to the more traditional approach of centralised risk assessment of known risks. The project seeks to raise internal and industry practices to at par with global standards. Previously, the Centralised Risk Management team would test every single control to isolate problems. This was a time-consuming and labour-intensive approach, further complicated by varying degrees of skill and competence. The RCSA approach mandates monitoring risks that are inherent to organizational activities, objectives and approaches. This is to be done by the respective teams. Risk Troopers are appointed and trained for each function and collaborate with the Risk Management team when needed. Sample collection and testing is carried out to further test assessments. Corrective action and reporting are integral to promoting operational efficacy. Timeline adherence and ownership of the process are encouraged at every stage.
ESAF Small Finance Bank's Financial Inclusion Initiative
The Financial & Digital Inclusion and Education project pushes for last mile banking by prioritising people in underserved and unserved parts of the country. Financial inclusion is prioritised by helping everyone, even customers with no credit history, gain financial access and become a part of the formal banking ecosystem. 504 banking outlets are being run in 21 states and 1 UT to ensure widespread coverage of financial services. The project serves 42 Lakh customers, of which over 95% are women from economically weaker segments. Numerous channels like ATMs, call centres, mobile banking, internet banking and multiple branches have made the bank very accessible.
GoDigit General Insurance Limited Promotes Digital Insurance
The Digital Insurer project seeks to promote paperless, technology-enabled, digital-first insurance services that are quick, easy, customer-friendly and free of jargon and unnecessary complexities. The company designs products keeping customer needs and wants in mind, ensuring that they uphold their mission to 'Make Insurance Simple,' whilst cultivating customer trust. Automation is used to aid the human effort. The digital, zero-touch system and Cloud-deployment have ensured optimal functioning even in the pandemic. The company offers a range of insurance schemes, from health and asset insurance to travel and home insurance. Whilst the industry grew at a rate of 2.5% between April and December, Go Digit General Insurance Limited grew 35%. The company was listed as the first unicorn for 2021. With profitability achieved within 3 years of starting, more than 15 million customers, more than 260k claims closed with healthy Claim Settlement ratios and an overall market share of 1.48% in 9MFY21, the organisation is paving the way for BFSI.
Saptagiri Grameena Bank Promotes Disaster Management Best Practices During Covid
The bank offered financial support by disbursing Rs.5741.64 Crores to 4,62,402 customer accounts to help meet the challenges posed by the Covid-19 pandemic. The bank helped 1,28,751 beneficiaries under the PMSBY scheme and 80,771 beneficiaries under the PMJJBY system. The motto of 'Serving for Rural Prosperity' was upheld despite the severe constraints posed by the pandemic. The bank itself was able to achieve a growth rate of 20% even in times of crisis.
The KCC Covid Sahaya Loan helped farmers with crop loans whilst the SHG Covid Sahaya Loan were designed for members of Self-Help Groups that required financial assistance in order to be able to meet their daily expenses. MSME borrowers benefitted greatly from the Covid MSME Support Loan, urban street vendors were covered by the PMSvanidhi service whilst rural petty vendors were helped by the Jagananna Thodu service. The YSR Cheyutha Retail loan helped establish new business units and the YSR Cheyutha Animal Husbandry loan was instrumental in helping customers buy Milch animals.
SKOCH invites all BFSI players to participate in the research, evaluation and assessment exercise. True development has to be inclusive, beneficiary-led and results-oriented. The SKOCH study takes a deep dive into the important work being done by key actors across industries and sectors in the country.
---
Recent SKOCH Awardees from BFSI
---
BFSI's Evidence of Excellence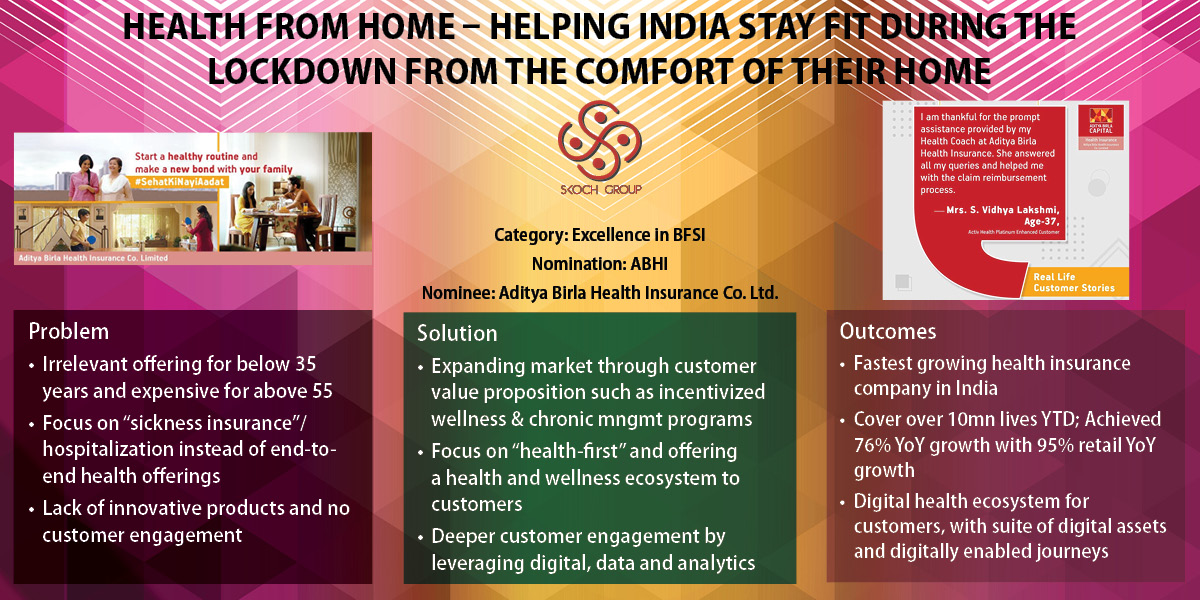 ---
Media Coverage
---
---
About SKOCH Awards | Methodology | Past Highlights
---
---
SKOCH Award Nomination Form