Public Sector Undertakings (PSUs) are an integral part of the economic and developmental landscape of India. These public sector enterprises are significant contributors to the economic growth of the country. SKOCH studies development, administration, governance and citizen experiences. Social, economic, digital, infrastructural and social development and welfare all contribute to the individual's quality of life as well as the growth and success of the nation.
The SKOCH Awards are recognised to be the highest, most honest and independent honour in the country. Enthusiastic participation by players from across governmental, non-governmental, public and private sector organisations allows us an insight into the state of development and scope for future plans. We invite industry leaders and new entrants from across sectors and industries to participate in the SKOCH review and awards, engage with peers, interact and learn from our panel of expert domain jury.
SKOCH has found the following projects to be strong performers in the PSU niche. These enterprises and their projects have made a mark in their respective niches in recent times. Given the devastating impact of the Covid-19 pandemic in 2020, it comes as no surprise that a significant number of PSU projects were in response to the pandemic.
Air India Limited Inspires During Covid-19
Air India Limited has done phenomenal work in response to the Covid-19 crisis. Air India carriers have been bringing stranded Indians home from all over the world ever since the pandemic hit. Air India flew to the Covid-19 epicenter in Wuhan on 31st January 2020 and 1st February 2020 to evacuate 7 Maldivians and 637 Indians. Another 5 foreign nationals and 119 Indians were evacuated from the Diamond Princess cruise ship docked off Yokohoma, Japan. Since then, Air India has evacuated and brought home nearly 4 Lakh Indian nationals under the Indian Government's Vande Bharat Mission. The carriers have also been used to transport essential cargo, including foodstuffs and medical supplies, during these unprecedented times to numerous destinations both in India and abroad.
SKOCH Recognises BEML Limited's Contribution to COVID-19
With the onset of the pandemic, BEML's leadership sprang into action, organising meetings for Factory Complex Heads and Functional Directors to review organisational preparedness, develop precautionary practices and establish a company-wide SOP. Awareness programmes dedicated to safety protocols, prevention best practices, social distancing, mask use and sanitisation, home quarantining, etc were arranged for all staff and employees. Steps were taken to facilitate contactless employee attendance, staggered shifts, leave protocols, work from home and to supply housekeeping, security, mail and material handling teams with safety gear. In keeping with government directives, company operations were paused from 23.03.2020 to 3.5.2020. No lay-offs happened.
BEML is a Ministry of Defence organisation that serves its Core Sectors and so, the organisation resumed Manufacturing Operations and office procedures in keeping with the Ministry of Home Affairs' mandates. Strict protocols were implemented across the various factories, offices and associated places and high standards of hygiene were ensured with entry screening, proper material handling, sanitisation protocols for common areas, online digital training and meetings wherever possible, etc. BEML employees contribute one day's salary towards the PM's Care Fund. The Board-level executives donated three weeks' salary to the same. BEML provided food to local communities, construction workmen and Gram Panchayat members. BEML also helped out the tribal colonies with Essential Provision Kits.
Bharat Petroleum Corporation Ltd Shines in the Digital Transformation Sector
SKOCH has studied the project dedicated to Remote Monitoring of Catalyst Offloading /Loading Activity in BPCL Kochi Refinery using Digital Technology. The Covid-19 pandemic created seemingly-insurmountable challenges which made company operations difficult across industries. Travel and transport limitations and social distancing protocols were essential to keep people safe but they did create challenges as organisations adapted to remote work systems. BPCL rose to the occasion to keep its operations running while upholding all sanitation and safety protocols. BPCL likely pioneered remote monitoring in the Oil and Gas industry. The project allows remote monitoring of catalyst offloading/loading activity and was implemented in two units of the BPCL Kochi Refinery. Digital technology and tools were used to facilitate seamless, real-time interactions between onsite experts/staff and remotely-based catalyst vendor representatives/licensors. Digital intervention allowed critical, timebound business imperatives to be carried out and inspected remotely.
BHEL Joins Fight Against Covid-19 with the Innovative BHELMISTER
Bharat Heavy Electricals Limited introduced the project Development of Disinfectant Spraying Unit (BHELMISTER) to Combat COVID-19 Pandemic. The BHELMISTER was developed in response to an urgent call for disinfectant spray from the Collectorate of Ranipet. By studying equipment used for other applications, innovating to improve existing ideas and developing the prototype and finetuning it for greater deployment, BHEL was able to quickly create an effective solution at a time of crisis. BHEL supplied the authorities with 100 units of the BHELMISTER in the shortest time possible.
Hindustan Aeronautics Limited Develops Defence Manufacturing
HAL is redefining manufacturing in the Defence sector with its project Implementation of Manufacturing Process for Arrester Hook Platform LCA Navy Aircrafts. The LCA Navy is India's first indigenously-developed aircraft that is able to land on aircraft carriers. The AHS-System is integral to this activity. The arrester hook needs to be able to withstand an arresting load that is 4-4.5 times the aircraft's landing weight. The AHS-System's ability to fulfill its role is dependent on the manufacturing accuracy of the AHS-Platform. By developing technical expertise, technology, and processes, HAL is now producing these critical components for the first time in India at the ARDC CNC-Shop.
NTPC Limited Uses Digital Initiatives During Covid-19
NTPC Limited's project on Organisational Turnaround Using Digital Initiatives During COVID 19 Pandemic was instrumental in controlling the spread of infection. CCTV Cameras were installed in the NTPC Limited Hospital areas and drones were used to monitor the local public market that is organised biweekly. This allowed the authorities to keep track of hospital visitors as well as those coming to the market melas, in case anybody needed to be tracked for possible infection outbreak. To keep the NTPC plant operational and safe, stringent sanitisation and safety protocols were implemented. As a result of these efforts, the rate of infection fell from 50 to 10. With over 1,500 contractual staff and 350 employee staff, 200 daily hospital visitors and 1,500 market visitors, this project has played a crucial role in keeping people safe.
Oil & Natural Gas Corporation Launches Covid Response Project
The Oil and Gas sector is one of the most influential contributors to Indian economy and is recognised as one of the eight core industries in the country. ONGC was able to maintain essential operations after the Covid-19 pandemic hit, even during the country-wide lockdown. ONGC field staff volunteered for extended shifts and continued to remain at both onshore and offshore worksites for more than two months, instead of the standard two week-long periodic assignment. This allowed operations to continue safely despite the lockdown. The commitment displayed by ONGC personnel was critical to maintaining the energy security ecosystem of the country.
A detailed SOP, staggered attendance, work from home systems and virtual meeting platforms, stringent safety protocols at all sites like sanitizing tunnels, sanitisation of incoming luggage and passengers for offshore platforms, 24*7 helplines and the ONGC Covid-19 Assistance for You online helpdesk are just some of the measures introduced by ONGC to remain operational and safe. Despite the challenges and realities thrown up by the 'new normal,' ONGC remains committed to its growth agenda and its Energy Strategy 2040, steady in its quest to develop as a diversified energy enterprise.
Shipping Corporation of India Ltd. Prioritises Business Continuity During the Pandemic
The Shipping Corporation Of India Ltd. launched the Corporate Excellence in SCI project in the Business Continuity niche. SCI developed a Business Continuity Plan after strategising and adapting work processes. The SOP was communicated down to the operating level. Work from home, remote monitoring, carefully planned repair, maintenance and replacement activities, digital communication for all stakeholders and seamless communication between the shore and vessels have ensured efficiency. SCI ships have remained operational, transporting critical cardo like coal, crude oil, fertilizer, iron ore, etc. Not only has SCI remained operational despite the pandemic, it has also accrued its greatest quarterly net profit in 54 quarters for the end of the first quarter for 2020-21.
IndianOil Corporation Ltd. Lauded For Efforts During Covid-19
IndianOil launched a project titled E Platform For IndianOil Customers (ePIC) in response to the Covid-19 pandemic. With a team of 33,500 members, 30,000 petrol pumps and more than 12,000 distributors serving 13.11 Crore LPG households, IndianOil is the largest commercial enterprise in the Energy sector. The new platform allows the organisation to offer seamless services to a number of enterprises, ranging from Aviation, LPG and Lubes to Retail and Institutional Sales. It is a digital platform that facilitates the standardization of marketing strategies for a range of products, allows an insight into the customer base, improves customer service, betters grievance redressal and all in all offers an integrated customer experiences platform that works on all manner of personal digital devices.
Under the PMGKY scheme of the Govt. of India, IndianOil provided 3 free cylinders to every one of the 3 Crore Ujjwala beneficiaries. This welfare exercise is reported to have cost Rs. 4,541.05 Crore. Throughout this period, 10 Crore general LPG customers received refill supplies. In order to adhere to the safety norms, the corporation introduced a number of digital mechanisms like contactless delivery, e-payments and e-invoices to be able to protect customers and their own staff.
---
Recent SKOCH Awardees from PSU
---
PSU's Evidence of Excellence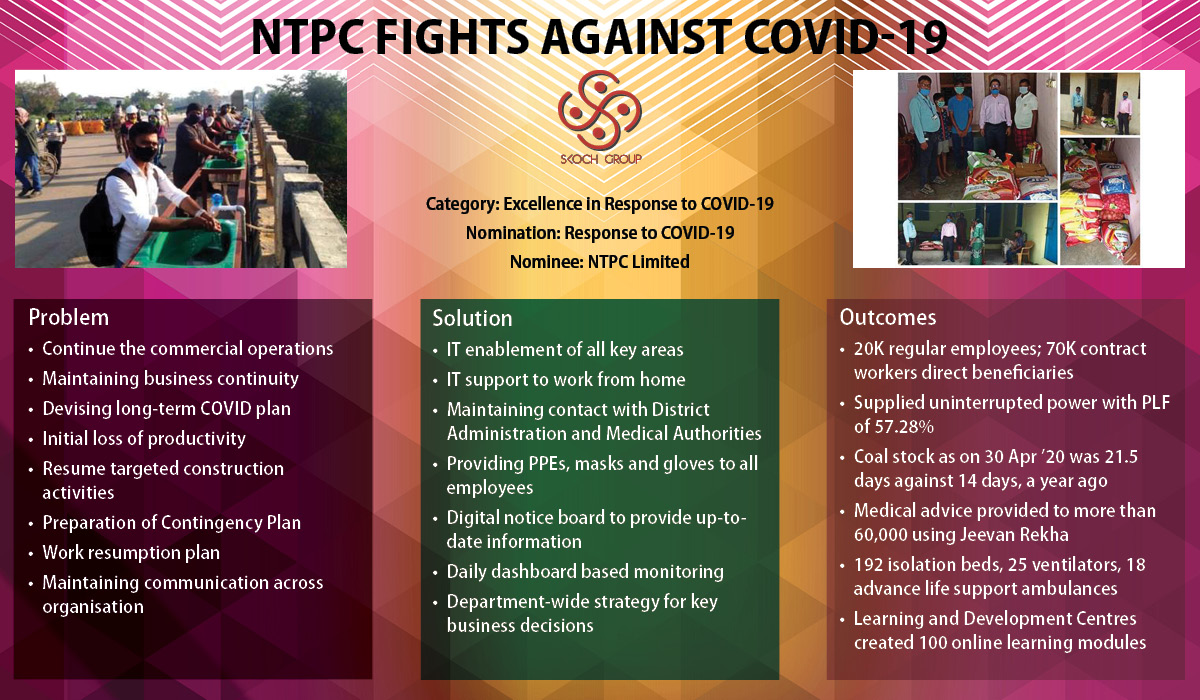 ---
Media Coverage
---
---
About SKOCH Awards | Methodology | Past Highlights
---
---
SKOCH Award Nomination Form